Strumenti digitali e collaborativi per le Scienze dell'Antichità
Strumenti digitali e collaborativi per le Scienze dell'Antichità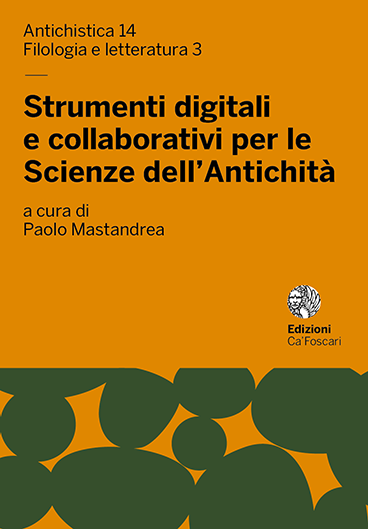 Download free PDF
  pdf
---
46
1
---
Topic
chevron_rightAntiquity Studies
Language
it
ISBN (print)
978-88-6969-183-6
ISBN (ebook)
978-88-6969-182-9
ISSN Filologia e letteratura
chevron_right2610-8836
e-ISSN Filologia e letteratura
chevron_right2610-9352
Date of publication
29 Nov 2017
Antichistica
Epigrafia digitale o digitalizzazione delle epigrafi?
Flavia De Rubeis
ORCID 0000-0001-8780-8085 
Università Ca' Foscari Venezia, Italia
flaviadr@unive.it


DOI 10.14277/6969-182-9/ANT-14-7
Abstract

At present, the issue of digital epigraphy seems limited to the digitalization of epigraphs by means of the creation of databases. Digital epigraphy, unlike the digital palaeography that in the last few years has known a potential development that is likely to produce very interesting results, still does not have its own defined search line, at least at current research.

Keywords
Medieval palaeography. Medieval epigraphy. Digital humanities. Digitalization. Database.
 This work is licensed under a Creative Commons Attribution 4.0 International License