Ricerche giuridiche
6 | 1 | 2017
Ricerche giuridiche
6 | 1 | 2017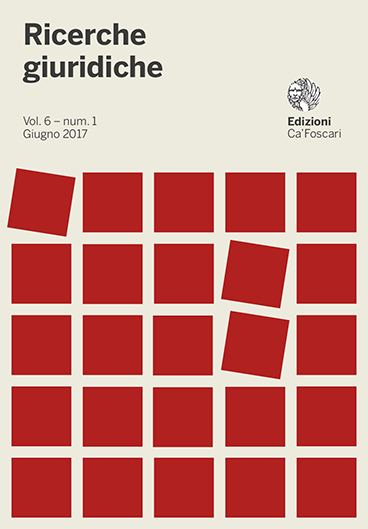 Download free PDF
  pdf
---
26
0
---
Topic
chevron_rightLegal Studies
Language
it
e-ISSN
chevron_right2281-6100
Online issue
Vol. 6 | Num. 1 | Giugno 2017
Ricerche giuridiche | 6 | 1 | 2017
Azione del socio investitore contro la Banca
Competenza del tribunale delle imprese o della sezione ordinaria?
Carlo Mancuso
Ricercatore di Diritto processuale civile nell'Università di Salerno
cmancuso@studiolegalemancuso.net


DOI 10.30687/Rg/2281-6100/2018/01/008
Submitted 14 Feb 2017
Accepted 14 Mar 2017
Abstract

The author comments on a recent decision of the Court of Verona concerning the powers of the "court of businesses" in a case of purchase by an investor partner, of bonds convertible into shares of the bank. Starting from the case decided by the judgment in question, the discussion highlights some problematic aspects related to the different nature of the ordinary court and the court of businesses.
Keywords
Determinazione della competenza sulla domanda proposta dal socio investitore nei confronti di una banca popolare. Utilizzo del criterio di cui all'art. 10 c.p.c.. Competenza del tribunale delle imprese. Esclusione.
 This work is licensed under a Creative Commons Attribution 4.0 International License